College and University Student Moving Services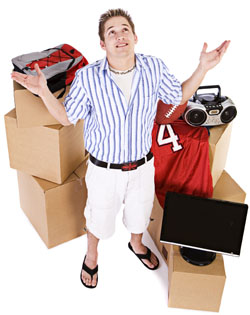 Do you dread the thought of having to move your son or daughter to or from college? Dread no more! Apple Moving Houston regularly provides moving services for college bound students in the state of Texas. Our Texas moving license is a statewide license, so if your son or daughter is going to college anywhere within the state of Texas, we can move them from your Houston area home to their dormitory or apartment -- regardless the Texas college or university they attend.

Likewise, if your college student son or daughter plans to move home for the summer, or transferring to a new university, Apple is ready to handle their move. Or perhaps they're about to graduate from college and preparing to move back home or transition to whereever their Texas-based job might dictate they live. Whatever their case or circumstances, Apple Moving can move them from their college or university, to whereever they need to go, as long as their points of origin and destination are in the great Lone Star state.
Our Affordable Student Movers Will Put Your Mind at East
Many local moving companies overlook the moving needs of college and unversity students. Apple Moving has over 20 years of moving industry experience and we know and understand the needs of parents facing the move of their son or daughter to or from their homes and universities. Countless professionals in the Greater Houston Metropolitan Area travel abroad on business or have such busy schedules they simply don't have time or equipment to assist in moving their child to or from college. Others, whether parent or student, may be handicapped or physically unable to handle the heavy demands of a college-related move. That's where Apple Moving comes to the rescue!

Give Apple Moving the chance to bid on your son or daughter's move to or from campus. Try us once and you'll know right away this is the only way to go when it comes to student moving! Apple Moving makes student moving fun and easy! Call us now at 281-446-0022 for a free moving quote or use our handy moving quote request form by clicking here.