Packing Services
Need a stress free move? On your next move, consider contracting our tranined and experienced packing personnel to professionally pack your home, apartment, condo or office. Apple's professional packers can pack your entire household, office or apartment -- or just a portion if your needs are limited.

You will be amazed at how quickly our trained and experienced packers can pack your household, from the smallest to the largest of your assets to your smallest most fragile valuables and collectibles, we do it all. Call us today at 281-446-0022 if you need more information about our packing and unpacking services, or would like free no-hassel, no-obligation quote for packing and unpacking services in the Greater Houston area.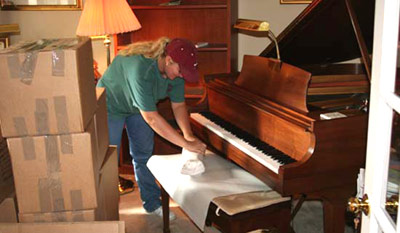 Moving Yourself - But Don't Want to Pack/Unpack?
If you plan on moving yourself, own a truck or have already committed to renting a moving truck, but don't want the hassel and headaches associated with packing and unpacking your boxes, worrried you may injure yourself trying to do all the lifting, etc.; consider hiring Apple Moving to provide professional packing, loading, unloading and unpacking services. That's right! Apple even offers affordable loading and unloading of your rental truck!